In today's society, one of the most important and useful power tools to own either as a professional or as a simple homeowner is a chainsaw. A chainsaw's importance can't be overstated, as it can be used for the most simple task, to the most technical you can think of, for example, pruning, bucking, yard clean-ups, cutting firewood and a whole lot more.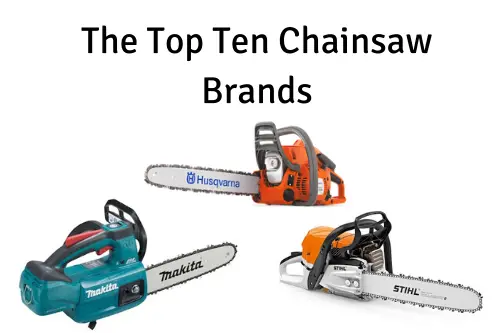 Like almost everything, not all chainsaws are manufactured equal, or rather, with the same quality. In light of this, it is fundamental to get a high-quality chainsaw, as chainsaws can be very dangerous to use, especially if it's made with low-quality materials or it is poorly designed.
Another reason for this is that the high level of performance, safety and productivity you would get from top-notch chainsaws can't possibly be expected from low quality or poorly designed chainsaws.
Now, while it is beyond important to carefully consider and pick out a good chainsaw for whatever task you may need it for, a problem exists that makes it very difficult. This problem is in the multitude of options that exists when it comes to chainsaw brands.
Basically, with so many various chainsaw brands to pick from, how do you adequately find the best? With that question in mind, you pretty much know that it can be very difficult to know which chainsaw brands are the best, and also, which brands you should avoid.
The reason for this difficult situation is the incredibly competitive nature of the chainsaw market and how over the last decade or so, the number of chainsaw producing brands have shot up. This reason is what has brought about this article.
In this article, I have listed the top ten best chainsaw brands that currently provide high-quality chainsaws for various use. Therefore, if you need to know if a certain brand has quality in its manufacturing and produces top tier chainsaws then you should check this list out.
The Ten Best Chainsaw Brands
This list is highly subjective, so you may not particularly agree on the ranking or on which brand should take the top spot or even be here. However, if a brand is on the list, then you best believe it's a major brand with high levels of quality products.
The next issue is the unavoidable Stihl vs Husqvarna discussion. Now, if you're a professional logger or lumberjack reading this, there's a high chance you were waiting to see who got the top spot between those two major brands, which will always either be first or second depending on personal preferences, type of sawing work and other key factors.
As they are the two top brands in the chainsaw industry, there's no way to avoid their inclusion, as there's no way to avoid arguments about which is on top.
So let's simply get to it.
Husqvarna Chainsaws
Yes, we went with Husqvarna, even though with know that just by a little most people may prefer STIHL. However, at the top of this list is the powerful and amazing chainsaw brand Husqvarna. This brand is a state-owned Swedish manufacturing operation that has experience spanning over three centuries in the chainsaw manufacturing industry.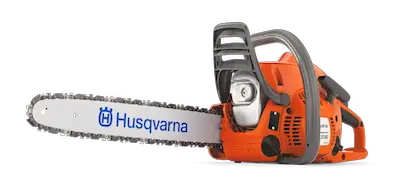 Their history dates back to the 1600s when this industrial powerhouse originally produced rifles, however, in the 1800s they shifted their focus and started manufacturing products to meet with the current demands. In that time, Husqvarna manufactured a vast array of products, ranging from sewing machines to bicycles and a whole lot more.
However, in 1959, they finally settled on manufacturing a product which they are now widely renowned for, that being the chainsaw. It is amusing to note that while Husqvarna made their first chainsaw in 1959, STIHL was already in the business and just gained major competitor in Husqvarna, and they've been each other's primary market rivals till now.
Leaving history behind, this brand has over time consistently put out top-notch chainsaws that showcase reliability, safety, durability, and of course, incredible power and performance. This is shown in its amazing offering of high-quality chainsaws.
For example, you have the powerful Husqvarna 395 XP that can basically cut through anything, making it perfect for sawing or cutting jobs of a large nature. Then there's also a Husqvarna 455 Rancher and a Husqvarna 120 Mark II which both come equipped with an X-Torq engine that offers performance and power with less fuel consumption and low toxic emissions.
Also, the above options are perfect for various reasons, as the 120 Mark II is the perfect tool for homeowner kind of jobs like cutting firewood and yard work, while the 455 Rancher is basically an all-around chainsaw perfect for various tasks.
STIHL Chainsaws
As earlier mentioned, the STIHL brand was a well-known name before its prime market competitor came into the fray. This is because, STIHL has been around since 1926, when Andreas Stihl invented the first-ever chainsaw and since then the STIHL brand has widely dominated the chainsaw industry, as well as been widely regarded as the best selling chainsaw in the world.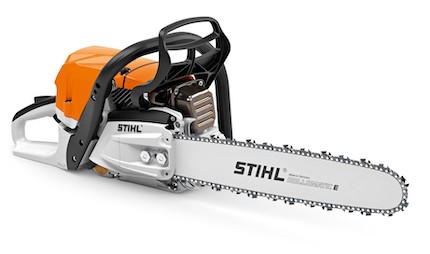 The reason for that is because chainsaws manufactured and produced by STIHL are widely recognized to be one of the best in the market, to the extent that they are preferred by many professionals, such as firefighters and a lot of contractors. In truth, the STIHL brand deserves all the renown it gets, especially since its chainsaws are made perfectly equipped with the three main features a top-quality chainsaw should have, that is, safety, durability and power.
The Stihl brand showcases their quality in the numerous product lines they provide. An example of this can be seen in the STIHL MS170 which is one of the best gas-powered chainsaws available from the STIHL MS product line of a wide range of high-quality gas-powered chainsaw.
Additionally, there's also the MSA product line, which offers a range of the best cordless and zero-emissions battery-powered chainsaws available in the world. A prime example of this is the STIHL MSA 200 C-BQ, which though equipped with a lightweight brushless motor, is still incredibly powerful, as well as highly safe to use.
The aforementioned STIHL products are a few examples of the wide range of high-quality chain saws this brand offers. Also, an amazing feature of this brand that has lead to its high renown, is the amazing mix of products they offer. They offer various chainsaw product lines that are aimed at various professionals.
Echo Chainsaws
Following the line-up of amazing chainsaw brands on the list is ECHO. Now, like the top two above, this brand has been around for quite some time, with their history dating back to 1963 when their chainsaws were originally made by a Japanese company named the Kioritz Corporation.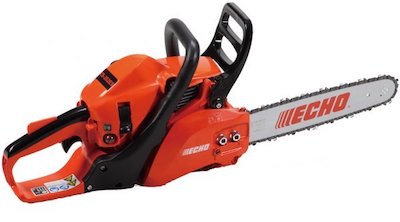 Since that time, the Echo brand has placed itself has a major player in the chainsaw industry, consistently expanding, growing and getting better at what they do, so much so that apart from the two brands above, none other is close to them. This can be seen in the fact, after those two top brands, the ECHO brand has the next highest cap on their product line.
So if you ever hear of the top three chainsaw brands, know that ECHO is most likely third. With that out of the way, you should know that ECHO is widely assumed to be somewhat more of a homeowner grade chainsaw brand. Now, while to an extent that is true, it doesn't necessarily mean that ECHO chainsaws can't be used for professional work, as opposed to simple yard work or homeowner tasks like cutting firewood.
In light of that, here's an example of an ECHO chainsaw that proves that point, in the CS-120P of the ECHO X series. The CS-120P is basically a beast that can take any STIHL or Husqvarna product in a run for their money. It is an amazing chainsaw that provides productivity, power, safety and ease of use.
Makita Chainsaws
Founded back in 1915 in Japan, this is another brand with years and years of experience under its belt. A fun thing to know about the Makita brand is that their initial focus wasn't In chainsaws or any of the other tools that now produce, rather it was on repairing and selling electric motors.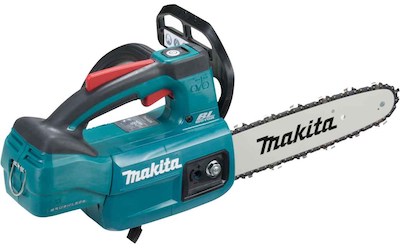 They later changed their focus and became the first Japan manufacturer to produce a portable electric planer, and ever since they've continued to grow and expand, and now are widely renowned for their electric and battery-operated tools. Additionally, in the chainsaw world, they've consequently become one of the leading brands producing battery-powered and corded electric chainsaws, that are amazing in various aspects.
One of which is the two 18V battery powered Makita XCU03PT1, that is also equipped with a powerful brushless motor. In addition, you should also note that in 1991 Makita acquired the Dolmar chainsaw brand that specialized in incredible gas-powered chainsaws, which was a favourite of many at that time.
Consequently, with the combined expertise under the Makita brand, the brand doesn't seem to stop soaring.
Worx Chainsaws
Like the ECHO brand here's a brand still dubbed a homeowner grade chainsaw brand, however, that doesn't properly do this brand justice. Owned by the Positec Tool Corporation, a Chinese firm that came into being in 1994, WORX as a company has a long history of providing amazing chainsaws for a variety of tasks.
The WORX brand only produces and manufactures either electric or battery-powered chainsaws and refrains from making any gas-powered chainsaw model. This is largely due to their environmental protection mentality, as they aim to manufacture and provide tools that are easy on the environment, in terms of emissions and any other factor that can cause environmental harm.
In fact, the WORX brand was proud to receive the WWF's platinum award for low carbon manufacturing, to crown their efforts. This does not mean that the electric and battery-powered chainsaws they produce aren't amazing, powerful or of high performance. Also, when it comes to providing safety, they've taken it up a notch with the production of their JawSaw line.
For those who don't know, the Jaw Saw is a varied form of a chainsaw that features a bar and a chain that is fully enclosed. This serves to offer the user quality cuts but at an unprecedented level of safety.
Homelite Chainsaws
When it comes to chainsaw brands, this is one of the most well-known names known by foresters, arborist and such. That is largely due to its historical significance, as the Homelite brand is known for being the first to build a chainsaw that can be used by one person, as opposed to being used by a team.
Since then, they have consistently provided and produced top class and high-quality chainsaws that are powerful, durable and safe to utilize. One of which is the corded electric chainsaw, the Homelite UT43122, which powerfully operates on a 12.0 amp motor. There's also the Homelite UT10640, which is a gas-powered that is very powerful.
Remington Chainsaws
Another well-known brand makes the list in Remington. An American power tool company that started off small in Milwaukee, Wisconsin in 1921, but has over the decades become a widely recognized brand. Remington produces and manufactures a vast array of power tools that are of high quality, powerful, durable and amazingly affordable.
This and more is also put into their chainsaw manufacturing sector, which since 1954 when they made their first chainsaw, has consistently produced and offered to various forms of consumers high-end quality chainsaws, that have an added benefit of being extremely affordable.
When it comes to chainsaws, Remington has a vast array of chainsaws that are tailor-made to various class of consumers. The majority of that are gas-powered chainsaws, in which they have several models, with the Remington RM4216 prevailing at the top of the bunch.
While for electric corded chainsaws and battery-powered chainsaws, the Remington brand has manufactured two and one respectively. The quality of their chainsaws whichever model is still high end, and at the price they sell, it's practically a steal.
Oregon Chainsaws
Now, when it comes to manufacturing chainsaws, Oregon cannot be to have as many years of experience as most names on this list. However, when it comes to years of experience in the general chainsaw industry, then Oregon has it.
The reason for this is that since Oregon was founded in 1947 and for multiple years they mainly focused on manufacturing chainsaw chains and bars, as well as other parts. And they were successful in this, as top brands like STIHL and Husqvarna consistently utilised components made by Oregon.
In recent years, Oregon began manufacturing their own line of battery and electric powered chainsaws. Now, with their vast experience with chainsaw components, you can bet they manufacture high-quality chainsaws, that have the durability and power to set it apart.
Also, to further set them apart, Oregon has added some extra and interesting features to their chainsaws that you can hardly see in other chainsaw brands. For example, chainsaws that come equipped with a built-in chain sharpener, just like the Oregon battery-powered self-sharpening chainsaw.
Black + Decker Chainsaws
Founded in 1910 by Duncan Black and Alonzo Decker, the Black and Decker's brand began in Baltimore, Maryland. However, they've since grown and expanded to a well known and respected brand that even NASA has made use of some of their tools. However, we are here for the chainsaws they manufacture.
The Black and Decker brand manufactures a variety of Cordless battery-powered chainsaws and electric corded chainsaws. Their chainsaws are known to be incredibly easy to use and very durable.
An example of this can be seen in one of their best battery-powered chainsaw, the B&D LCS1020 20V MAX, which is a very light yet durable chainsaw that is perfect for work around your house and simple cutting and pruning.
Greenworks Chainsaws
Compared to the aged and experienced brands on this list, the last on the list is relatively new in comparison. Especially when you take into account the fact it was founded in 2007 by the parent company, Globe Tools Group.
The Canadian based Greenworks brand has always been consistently moving towards its said goal of providing quality and reliable power tools. This led them to hastily grow and expand, especially in the chainsaw sector, as they've consistently brought out incredible electric or battery-powered chainsaws.
Also, the fact that they specialise in lithium-ion battery-powered chainsaws is a feat that earns them a place on this list.
Final Thoughts on The Top Ten Chainsaw Brands
As earlier said, the goal of this list was to showcase chainsaw producing brands that do so with consistent quality and performance, in order to make getting a chainsaw easier for you.
Now, that has been done near perfectly, as the list is sure to tell you which brands you should lean towards. It is worth noting that, as earlier stated, this list is subjective but it is worth noting that any chainsaw brand here definitely produces high-quality chainsaws that won't fail you.