If you're a homeowner who does a lot of woodworking, having a sharp chainsaw is essential. Manual chainsaw sharpening can be time-consuming, but with the right vise and tools, it doesn't have to be.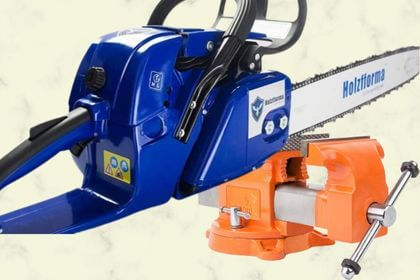 Let's take a look at five of the best vises for chainsaw sharpening.
1. Forward HY-DT150B-6IN Heavy Duty Bench Vise
Constructed from sturdy cast iron and ductile iron, this vise is designed to securely grip your chainsaw in place while you sharpen it.
Forward Heavy Duty Bench Vise
This 6 inch chainsaw vise is suitable for both industrial and DIY home use. The front jaw can be rotated by 360 degree, more convenient for clamping works.
The high-quality materials guarantee that the vise will last for many years, and the integrated 360-degree swivel allows you to easily adjust your chainsaw for optimal sharpening.
The bench vise is fixed in place but its anvil can rotate a full 360 degrees, delivering powerful clamping force with increased capacity for bigger items thanks to its generous throat depth and wider jaw.
Its micro-groove teeth provide superb grip on round objects while the swivel base gives you unlimited space to sharpen your chainsaw quickly and conveniently.
2. Capri Tools Forged Steel Vise
The Capri Tools Forged Steel Vise is the ideal addition to your workbench; this resilient tool has a maximum tensile strength of 90,000 PSI (54,000 psi yield strength) and also has replaceable jaws. With its robust drop-forged steel construction, this vise is built to last and withstand heavy use.
The replaceable jaw provides versatility, allowing you to change jaws with ease as required. And with a jaw opening of 7 inches, this vise can handle even the toughest jobs with ease.
Capri Tools Forged Steel Vise
Crafted with supreme strength and durability, the Capri Tools Vise is an excellent option to add to any workshop. The machined regular jaws and pipe jaws provide a strong grip that won't slip giving some added security.
This tool is equipped with adjustable guide rails, so you can achieve smooth results and unrivaled accuracy as you work. It generates a whopping 8800 pounds of clamping force, plus its 360° swivel base allows for easy sharpening of your chainsaw – all while maintaining precision.
The slide screws can easily be adjusted to remove the slack in the mechanism, making this vise an excellent choice for any project. The only downside is that there's no stopper that could prevent it from opening beyond its advertised jaw-opening distance and risk having a screw drop into the vise.
Fortunately, if this happens, you don't have to worry as reassembling it isn't a difficult task.
3. Raynesys 4-Inch Bench Vise
Whether you're just sharpening your chainsaw, creating woodworking masterpieces, metalworking sculptures, or other projects, this vise is the perfect tool to have.
Raynesys 4-Inch Bench Vise
The durable construction of this vise, made with high-strength ductile iron and chrome-plated spindle and nuts, helps to ensure that this vise stands the test of time.
This vise can be easily affixed to any workbench and is perfect for sharpening, drilling, gluing, and sanding. With this impressive tool, you will be able to take your craftsmanship up several notches.
With its forged steel jaws, heavy-duty construction, and stable base, the Raynesys 4-Inch Bench Vise is a great choice for any home workshop or professional garage. The sliding jaw feature allows you to adjust the two jaws independently of one another, making it easy to get a tight grip on any project.
With its non-slip textured surface, the jaw on this tool increases grip strength and keeps the chainsaw chain firmly in place. This saves you time when working and ensures that you can get the perfect angle on your chainsaw blade when sharpening.
4. Oregon Filing Vise
The Oregon Filing Vise is an essential tool for tree care professionals, providing them with the perfect solution to take on chainsaw and pole saw maintenance in the field.
Oregon Filing Vise
With its solid grip, this filing vise is a good option for allowing you sharpen your chainsaw chain on the go - allowing for maximum productivity during any job.
This robust vise works perfectly with any type of chainsaw sharpener, allowing you to tackle routine tasks safely and effectively.
The reliable chainsaw file handle offers a secure grip, while the bar vise for chainsaws keeps the guide bar in place so that filing is effortless. The slender size of this clamp conveniently fits into pockets and belt pouches, allowing you to take it wherever your job requires.
5. Olympia Tools 38-604 Bench Vise
The Olympia Tools 38-604 Workshop Series 4-Inch Bench Vise is an ideal tool for all types of projects, be it at home, in the shop, or even on contractor jobs. It features a four-lug reinforced heavy base that offers stability, and its polished anvil with anvil horn makes easy work out of shaping materials.
Olympia Tools Filing Vise
The Olympia Vice Grip Tool 38-604 offers the ideal solution for light to medium duty clamping. This remarkable tool can open up to a maximum of 4.75 inches, making it a secure option for gripping & cinching items regardless of their size.
With its 270-degree swivel base & powder coated finish, it's a high-quality product that you can attach to your workbench in the garage with ease.
Though it may not be the most heavy-duty vise on the market, this small but mighty tool is perfect for any basic to a medium-level project, from sharpening your chainsaw to polishing metal pieces.
If you're looking for a vise that is easy to use, reliable and affordable, the Olympia Tools 38-604 Bench Vise is an excellent choice for any home or professional workshop.
Types of Chainsaw Sharpening Vices
When choosing a vise for chainsaw sharpening, it's important to understand the different types available and which one will best suit your needs.
Bench Vices
Bench vises are ideal if you plan on doing occasional chain maintenance; they're easy to use, relatively inexpensive, and can be used on any type of surface (wooden or metal).
They come with either a single or two jaws that can be tightened securely onto the saw blade ensuring accurate alignment during sharpening. The downside is that they tend to be quite bulky and can take up valuable space in your work area.
Chain-Type Vises
Chain-type vises are more suited for professional use as they provide better precision when sharpening compared to bench vises.
The main benefit is that they feature adjustable clamps that allow you to secure them firmly onto any type of surface without having to worry about misalignment while sharpening.
These clamps also make them easier to transport from one place to another if necessary. The downside is that they tend to be more expensive than bench vises and may require more equipment such as an anvil or clamping plate.
Factors to Consider when Choosing a Vise
When choosing a vise for sharpening chainsaws, there are several key factors to consider. These include the type of material, the size of your chainsaw, grip strength, and the space available in your work area.
Let's take a look at what factors you should consider when selecting a vise for chainsaw sharpening.
Size of the Vise
The size of the vise is an important factor to consider when selecting one for chainsaw sharpening. You want to make sure that your vise can accommodate all sizes of chainsaws, from small handheld models to larger professional saws.
This way, you don't have to buy multiple vises or switch out one for another when sharpening different sizes of saws.
Type of Jaw Material
The type of jaw material used in a vise also needs to be considered before buying one. Steel jaws are more durable and can withstand heavier workloads than aluminum jaws; however, they tend to be more expensive.
Aluminum jaws are lightweight and less expensive but may not provide as much stability as steel jaws during use.
Grip Strength
It's also important that the vise has enough grip strength so that it won't slip while in use. Look for vises that have adjustable grip strength so you can tailor them according to the size and weight of your chainsaw.
If possible, test out how well the vise grips your saw before purchasing it; this will help ensure that you get one with enough grip strength for your chainsaw-sharpening needs.    
Space Available in the Work Area
Another factor to consider when choosing a vise for sharpening chainsaws is the space available in your work area.
If you have limited space in your workshop or garage, you may want to opt for a more compact and lightweight bench chain-type vise that can be easily moved around as needed.
On the other hand, if you have enough space and prefer to use a stationary vise, you can look for a larger bench-type vise that tends to be sturdier and more durable.
Conclusion
Whether you're an experienced woodworker or just getting started with home carpentry projects, having the right tools makes all the difference in the world – especially when it comes time for manual chain saw sharpening.
By investing in one (or more) of these top five vises for chainsaw sharpening, you'll have everything you need for quick and accurate results every single time.
Plus, with their durable construction, these vises will last through years of use – so no matter how big or small your project may be, these vises will help keep your chainsaws performing their best.
Last update on 2023-11-07 / Affiliate links / Images from Amazon Product Advertising API